Nieuwe Sluis Lighthouse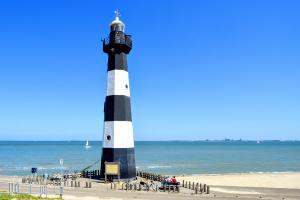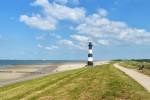 The 'Nieuwe Sluis' is a lighthouse in the township of Nieuwesluis, a few miles to the west of the heart of Breskens, in the Dutch province of Zeeland. The lighthouse was designed by Quirinus Harder and built in 1866-1867. The octagonal, black-and-white painted tower stands on the sea wall at the entrance of the Westerschelde. The tower has a height of 22.4 meters (72 feet) and has five floors. It's part of a series of lights that mark the end of the Scheldt, and guide the shipping traffic between the North Sea and Antwerp.
This tower is now the oldest existing cast iron lighthouse in the Netherlands, after the lighthouse in Renesse was demolished in 1915, and the cast iron tower of Ouddorp disappeared in 1911. The tower didn't always have black and white bands, but was initially yellow and was then given red-white bands. The optics of the tower was made by Barbier, Benard & Turenne. The light house has a copper dome.
Originally the lighthouse was part of the light line with a open lighthouse construction that was built at the same time as lighthouse near 't Killetje' of Nieuwesluis.
The lighthouse originally stood on top of the seawall. When the seawall was brought to Delta heights in the 70's of the previous century, it came to stand on the seaside of the seawall.
Characteristic
Name:Nieuwe Sluis
Built:1867
Tower height:22,4 m
Light height (above sea level):
Floors:5
Stair treads:93
Manned:Nee
Open to the public: Yes
Furthermore Nieuwe Sluis Lighthouse is near the following sights: Afslag Breskens (±1,1 km), Swimming pool Scheldeveste (±1,7 km) & Groede Podium (±2,8 km).
For information:
Panoramaweg 1, Breskens
web.
Website
Location