Beach Resort Nieuwvliet-Bad - Holiday park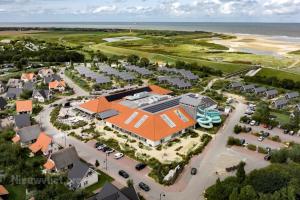 The holiday park Beach Resort Nieuwvliet-Bad is a stunning vacation destination in Nieuwvliet, Zeeland, where you can enjoy a relaxing and enjoyable holiday with your family. The resort is situated near the magnificent dune area and a short distance from the Belgian border, making it a perfect base to explore both beautiful Zeeland and Belgium.
The resort offers a wide range of accommodation options, from tiny houses to wellness lodges. Whatever your preference, Beach Resort Nieuwvliet-Bad provides comfortable and luxurious accommodations that meet all your needs. There's a boardwalk leading you directly to the stunning beach, where you can savor the sun, sand, and sea.
One of the highlights of the resort is the massive swimming complex spanning a whopping 1,225 m2. It's considered the most modern swimming pool in Zeeland and consists of multiple pools. This swimming complex is ideal for both children and adults to have fun and relax.
The resort is located at the transition of the Zeeland polder landscape and the dunes, bordering the nature reserve De Verdronken Zwarte Polder. With the Dutch-Belgian border just 7 km away, it's easy to make trips to neighboring Belgian towns and explore the charming surroundings of Zeeland.
Beach Resort Nieuwvliet-Bad is more than just a holiday park; it's a place where you and your family can create unforgettable moments against the backdrop of the beautiful Zeeland coast. It's the ideal destination for a relaxing vacation full of adventure and fun!
For information and reservation
Search & Book
Zeedijk 24, Nieuwvliet-Bad
tel. +31 117 372 300
web.
More information