It is a beautiful historic and picturesque place with a yacht club and a central location next to the Veerse Meer. Veere is also being referred to as the pearl of Walcheren, because of the rich nature and the history.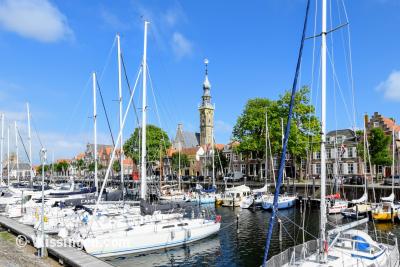 The city is being surrounded by forests. Walkers are well catered for here: great nature, rich history, small shops, nice terraces and sociable restaurants. Even though Veere is a small place, there are many opportunities if it comes to shops, antiquarians etc. Every shop has its own atmosphere and has nice and special trinkets. Also there are a lot of different jewellery shops and some music shops as well. Most of the shops in Veere are opened every Sunday during summer.
It is a paradise for the culinary recipient. Along the quay and the yacht club there are many terraces and restaurants. You will have a great view of the harbor from there. You can also find an ice-cream parlor, where you can buy home-made ice cream.
Sights
In the early days Veere was a flourishing commercial city. This prosperity can be found in the beautiful historical premises. The town of Veere arose in the twelfth century.
Scottish homes
The following centuries the town was being used to store Scottish wool. Veere still has these typical Scottish homes, which were built in the sixteenth century by rich Scottish merchants. At the Kaai in Veere, two of these Scottish houses still stand, and they remind people of the wool trade back in those days. Antique collections of the last private owners are among the things which can be admired here. Also fans of porcelain, furniture, style rooms and stitch costumes have much to look at. In the Scottish houses you can regularly go to see different expositions of the artists from Veere.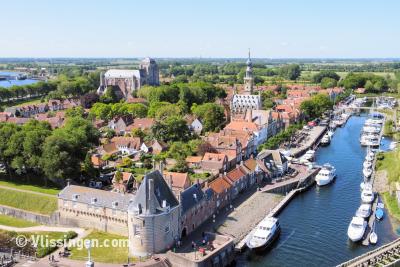 Campveerse Tower
Also the Campveerse Tower is a treat for the eyes. The building was built as part of the separation of the city around 1500. As from the sixteenth century the tower served its purpose as an inn and as a coast light. Nowadays it is one of the oldest inns in The Netherlands which is still in use. This old inn (situated at the water) has been transformed into a beautiful restaurant with a perfect view.